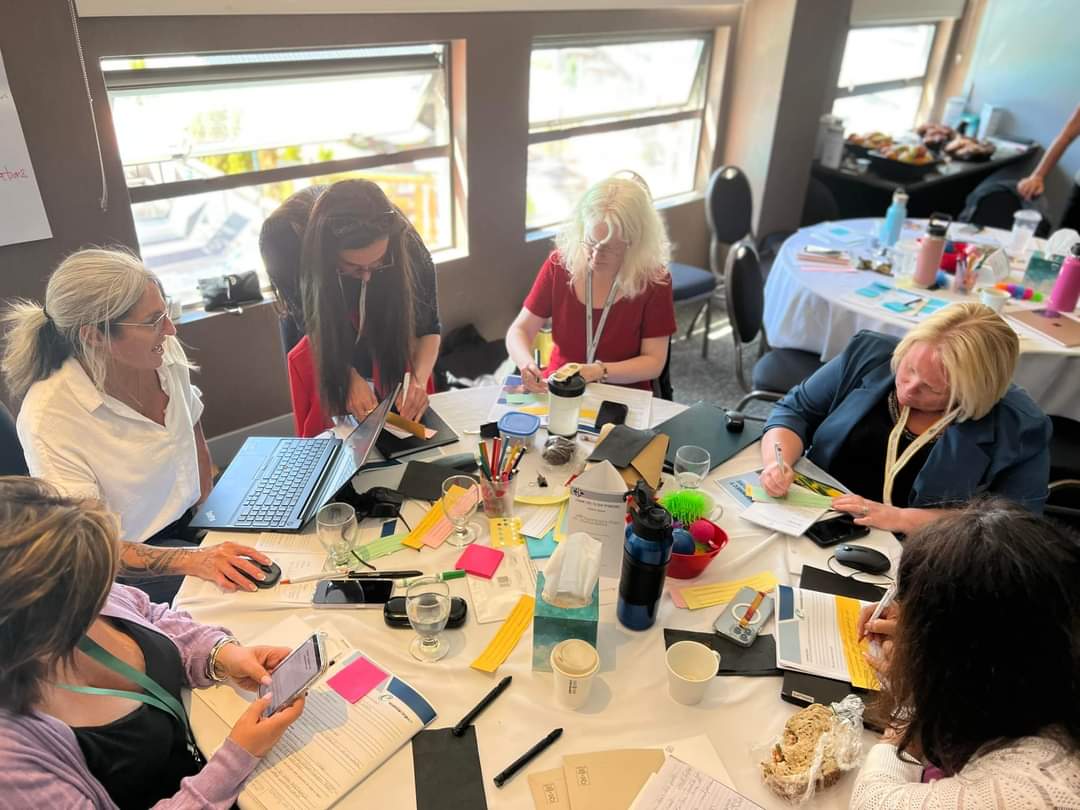 The Delta Chamber of Commerce was well-represented at the BC Chamber of Commerce's Annual General Meeting & Conference this June, which was held in beautiful Whistler, BC. Board Chair Rosanne Horner and Executive Director Jill McKnight attended on behalf of the Delta Chamber of Commerce, and DCC member business owner, Barry Hartman, participated as a panel guest!
All three represented the business community here in Delta admirably!
During the Conference itself, attendees participated in interactive presentations from numerous political, media, and business leaders; beginning with regional caucus meetings and a fantastic & inspiring "40 under 40" BC business leaders panel session, which included Delta's very own Barry Hartman of 505-Junk.
With critical and informative presentations by notable political leaders; including the Hon. Katrine Conroy - Minister of Finance, Hon. Sheila Malcolmson - Minister of Social Development & Poverty Reduction, Leader of the BC United Party, Kevin Falcon, and Leader of the BC Green Party, Sonia Fursteneau, it was certainly a packed few days with diverse voices and engaging dialogue! Panels included sessions with business leaders on industry trends, Indigenous tourism, mental health leadership for businesses, and spirited political commentary from top journalists, GlobalBC's Keith Baldry and Vancouver Sun's Vaugh Palmer.
We were also delighted that our Board Chair, Rosanne Horner (BDC's VP of Financing & Consulting for the South Fraser Region of BC) was able to facilitate a session on the national economic outlook with Pierre Cléroux (BDC's Research and Chief Economist) whom we hosted for a similar session earlier this year. Pierre is an engaging presenter and Rosanne an experience subject matter expert and talented facilitator. They bring excellent data, with a business lens and we were glad that more of our chamber network colleagues had the opportunity to benefit from their expertise!
At this year's AGM Policy Sessions, the Delta Chamber of Commerce was - once again - an active participant in authoring, co-authoring, and supporting new and renewing policy resolutions to advocate for businesses regarding topics addressed by three provincial ministries; 1) Agriculture and Food, 2) Finance, and 3) Transportation. All were successfully and enthusiastically endorsed by our network colleagues and as such have become part of the BC Chamber of Commerce's Policy & Positions Manual for the next three years.
Agriculture: In 2020 the Delta Chamber of Commerce authored a novel policy resolution calling on government to support and invest in Agritech; a growing sector in BC. Since that time, much progress has been made towards the goals originally included in that policy resolution: an absolute POLICY WIN for the Delta Chamber of Commerce. In 2023, partnering with our colleagues at the Abbotsford Chamber of Commerce, we co-sponsored an updated version of the policy ("Supporting BC's Growing Agritech Sector" on pg 6) which Abbotsford will be taking the lead on, with our support. We're thrilled that so much progress has been made and glad to pass the torch on to our friends out East as they continue the work in championing Agritech moving forward.
Finance: One of the frustrations many Delta residents and businesses have expressed regarding major infrastructure projects, such as the George Massey Tunnel replacement, is that when governments change and the new government of the day makes a decision to change the scope or design of an infrastructure project, there can be significant costs associated with these decisions which may or may not be reflected in the public reporting of the comprehensive costs for that project. This year the Delta Chamber of Commerce submitted a new policy resolution "Comprehensive Reporting for Publicly Funded Infrastructure Projects" (pg 32) which calls on government to "report in a transparent way the cumulative costs, including all historical costs of work undertaken for previously approved project scope statements, design choices, or alternative locations, as part of the total costs to complete an infrastructure project." This resolution was enthusiastically adopted by our network peers and we look forward to sharing it more broadly.
TRANSPORTATION: Every business and resident in Delta or transiting through Delta we've heard from all agree: the George Massey Tunnel replacement project needs to be expedited! With the support of, and co-submitted with our network colleagues from Vancouver, Richmond, and Surrey, the Delta Chamber of Commerce originally wrote a policy resolution on this topic back in 2020 and this year we updated, renewed and re-submitted it with an updated title: "Expediting the George Massey Crossing Project" (pg 133). We continue to actively advocate both for timely completion of this project, and for protection of the scope of the project to ensure that Delta's needs are recognized and protected in the process.
All three of these policy resolutions were adopted by our network with an overwhelmingly positive endorsement, and they provide an example of the benefits of membership with the Delta Chamber of Commerce. We actively advocate for our members with decisionmakers at every level of government; listening to our members' interests, needs, concerns, and issues; working to find practicable strategies to address them; and leveraging the power of the network to elevate & highlight them beyond the scope and scale that individual business owners and/or smaller, independent organizations don't have the capacity to reach on their own.
We encourage you to contact us today and share your thoughts on business issues you're facing! As members of both the BC Chamber of Commerce and Canadian Chamber of Commerce, we are connected with network colleagues across the province and country and are genuinely passionate about advocating for the business community here in the federal electoral district of Delta.
---
The Delta Chamber of Commerce is a member-based organization of business and professional people, which works to promote our members' collective commercial interests; to build a healthy economy and improve the quality of life in our community and to advocate for the interests of the Delta business community with all levels of government. 
September 14th, 2023, Delta, BC | Today, the Canadian Federal Government's decision to extend the Canada Emergency Business Account (CEBA) repayment deadline by one year will be welcomed by small business who are faced with the inability to repay their CEBA loans. "The repayment deadline for CEBA loans to qualify for partial loan forgiveness of up…