​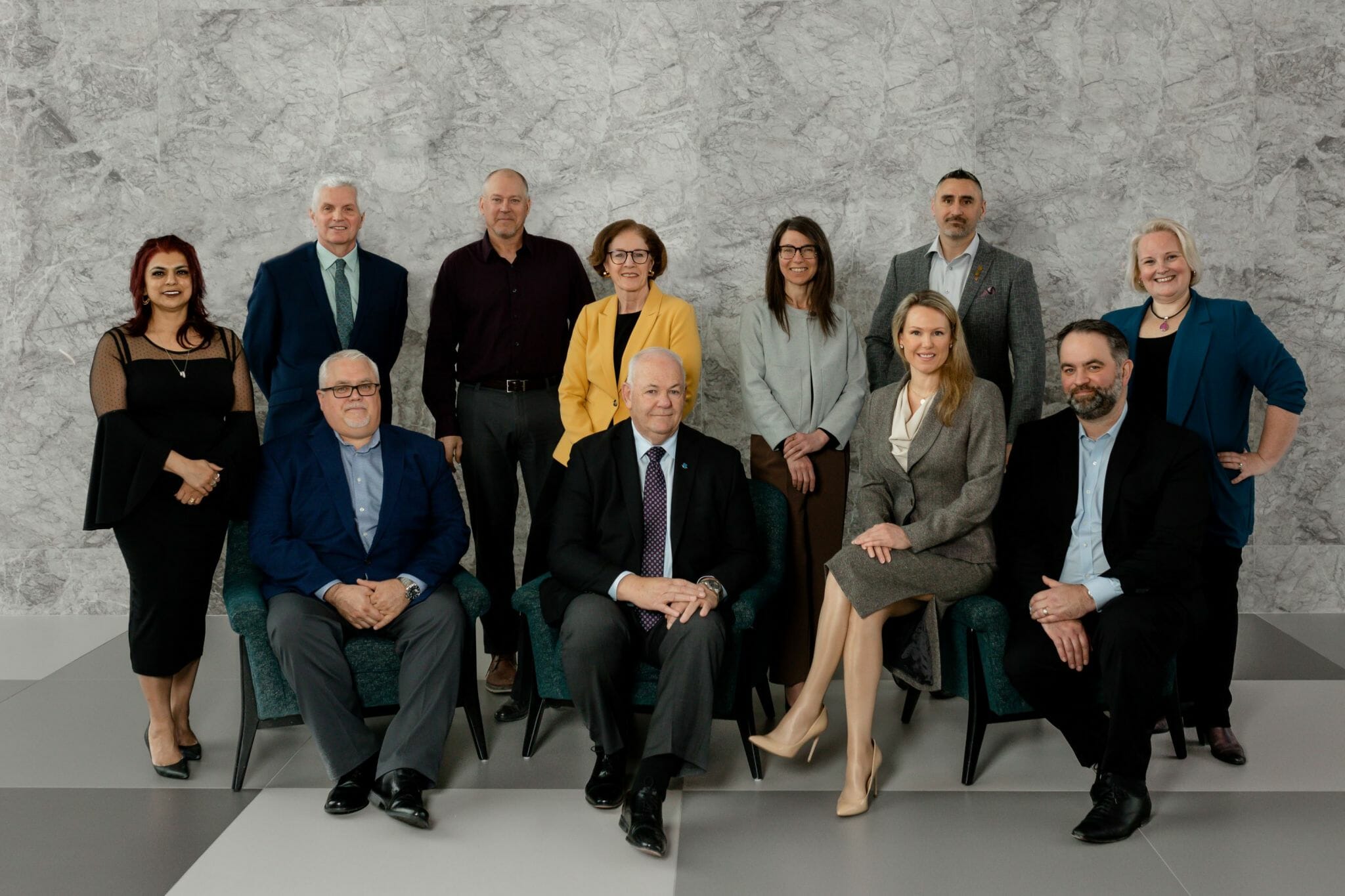 Back Row (L to R)
Sheena Sidhu, Director, Yard at a Time Concrete Ltd.
Pierre Pelletier, Director, Delta Optimist
Ken Malenstyn, Director, Barnside Brewing
Yvonne Anderson, Past Chair, Santevia Water Systems Inc.
Sam Lang, Secretary / Treasurer, Stoilen, Alston and Lang
Steven Stark, Director, Tsawwassen Shuttles Inc.
Jill McKnight, Executive Director
Front Row (L to R)
Nathan Lauer, Director, Seaspan Ferries Corporation
John Bourbonniere, Director, Harbour Link Container Services
Rosanne Horner, Chair, BDC - Business Development Bank of Canada
Rob Allan, Vice Chair, Campbell Froh May & Rice LLP
​
Rosanne Horner is Vice President, Financing and Consulting for BDC. Since 2006, she has worked with hundreds of owners and management teams to help them scale their businesses. She has directly worked with companies across B.C. to secure senior debt financing, mezzanine capital, and management consulting solutions to help them grow, become more efficient and enhance their management capabilities. Over this time, she has become a trusted resource for private companies that have the ambition to become best in class. Prior to BDC, she held various positions in Operations Management.  She holds a Bachelor of Arts from the University of British Columbia, a Management certificate in Human Resources from BCIT, and an MBA from the University of Hertfordshire (UH).
Rob is a lawyer and partner of Campbell Froh May & Rice LLP in Richmond.  He has developed a broad solicitor's practice, and he assists his clients with the purchase and sale of businesses, corporate reorganizations, business succession, commercial leasing, real estate transactions, wills and estate planning and probate and estate administration.  He also oversees the firm's residential conveyancing department, and in 2015 Rob expanded his practice to include a focus on maritime and fisheries law, and a significant portion of his practice is now dedicated to assisting his clients in the commercial fishing and maritime sectors with transactional work such as vessel transfers, maritime lending transactions and commercial fishing licence and quota transfers, leases and trusts.  Rob has been proud to call Delta his home since 2014, when he and his family laid down roots in Tsawwassen.  In his spare time it's not uncommon to find Rob golfing, spending time at the beach with his family, or cheering on his son at one of the local arenas or athletic parks.
Sam Lang, Secretary/Treasurer
Sam Lang, CPA, CA, is a partner at Stoilen Alston & Lang, a local firm that provides both businesses and individuals with comprehensive accounting and taxation services. Sam gained much of her experience with one of the leading accounting firms in Canada. Now with 20 years of experience in public practice, she continues to focus on working with private companies large and small to help the owners meet their business accounting and taxation requirements, as well as shareholder tax planning needs. Her diverse industry experience consists of the following sectors: construction, professionals, retail, rental, investment companies, and auto dealerships. She is relationship-focused and goes the extra mile for her clients. Sam has spent most of her life living in South Delta; she will often be seen in the community riding her bike, running, attending a yoga class at a local studio or enjoying the outdoors with family and friends.
Yvonne Anderson, Past Chair
Yvonne Anderson is the founder and CEO of Santevia Water Systems Inc. a Delta start up.  Santevia manufactures and distributes home water filtration products in Canada, the USA and Europe.  The Santevia is located in Tilbury Industrial park and many of the team live, work and play in Delta.  Yvonne has raised her three kids in Beach Grove and is an active volunteer in Delta.  You can often find her running on the dyke, biking around the community or at some meeting in a local coffee shop!
Yvonne currently serves on:
The City of Delta - Mayor's Community Investment Committee
Rotary Club of Tsawwassen - Board of Directors
Tsawwassen Toastmasters - Board of Directors
Pierre Pelletier, Director
Pierre Pelletier is the publisher of the Delta Optimist. He has been a newspaper publisher since the late 90s and has worked for the parent company of the Optimist, Glacier Media Group, since 2004. Prior to being a publisher, Pierre was a freelance magazine writer, working for such magazines as The Financial Post Magazine, Canadian Business, Harrowsmith Country Life, and CP Airlines (yes, remember them?).  Pierre holds a Bachelor of Arts degree (Economics and History) from the University of Alberta. He is a strong advocate for volunteerism, having worked on other boards including: senior/assisted living homes, Chambers, sports clubs, and numerous non-profit groups.
Nathan, Senior Manager Commercial & Logistics with Seaspan Ferries, has worked in transportation and logistics for over 25 years and believes in the positive impact this industry makes to the BC and Canadian economy. His experience spans building new transportation gateways, managing, leading and growing high performing deep-sea terminals, warehouses and logistics chains. As a transportation logistics graduate of CITT and a holder of an MBA from UNBC, Nathan couples experience and education in his strategic and daily initiatives.  With an in-depth knowledge of logistics and business development, he understands customer needs and can develop improvements to the customer experience. At Seaspan Ferries Corp, Nathan is responsible for business development and expanding service delivery with Seaspan Ferries Corp and SFC Logistics and developing cooperative projects with Seaspan Marine and The Washington Companies.
Sheena Sidhu is the Controller of YAAT (Yard At A Time Concrete Ltd.), VRM (Vancouver Ready Mix Inc.), and FWP (Fraserway Prekast Ltd.). She was born and raised in Vancouver, BC and lives in Cloverdale, BC with her husband. Be it elementary school, high school, or sports, Sheena was actively involved in their three childrens' school PAC committees, field trips, and fundraisers. After raising their children, it made sense to Sheena to restart her career in their business. Her journey into the accounting and finance world began over 30 yrs ago. Along with her hard work ethic and organization skills, Sheena has always been driven and has a wide range of experience in both public and private practice. She was a Financial Analyst at BC Hydro for over 10 years and continued taking CGA courses while working there. Sheena also has a Diploma in Financial Management (Accounting) from BCIT.
She is an active member of the community and currently serves on The Delta Chamber of Commerce (Director), Concrete BC (Convention Committee), and HAVAN (Membership Committee). Sheena finds satisfaction and fulfillment in giving back to the community. This ambitious and social woman loves what she does and the industry. It is full of people with great work ethics, self-confidence, and an ability to have fun.  Being actively involved has allowed her to meet some inspiring, powerful professionals and make lifelong friends. Sheena has grown personally and professionally. Sheena is excited about her role at the Delta Chamber of Commerce. Her personal motto: Nothing is Impossible!
John Bourbonniere, Director
John is Executive Vice President at Harbour Link Container Services Group of Companies and has been a part of the Senior Leadership team for the past 11 years. John is a transportation specialist with over 50 years experience in all aspects of truck transportation, operations, marketing, and cross border and drayage activities During his career John has held a variety of senior management positions with Yellow Freight (aka Yellow Corp.) in Western Canada, retiring in 2010 after 34 years service and came out of retirement and joined Harbour Link in 2011 with primary responsibilities focused on day-to-day Operational Oversight, Labour and Industry, and Government Relations. John is a Past Chair of the BC Trucking Association (BCTA) 1996–98 and continues to participate as a board member of BCTA and a board member of the Canadian Trucking Alliance (CTA) in addition John is active on several other Industry Association committees; CIFFA, CILTNA, and WESTAC.
Harbour Link Container Services Inc. provides local drayage and highway trucking services to the import / export community across North America using the Port Metro Vancouver (PMV) gateway. The company operates a fleet of in excess of 100 trucks and over 500 container chassis. In addition to drayage trucking services the company also operates two Container Storage Off-Dock facilities under the names of Harbour Link Container Services Inc. and Shoreside Container Services Inc. both facilities are located in Delta.