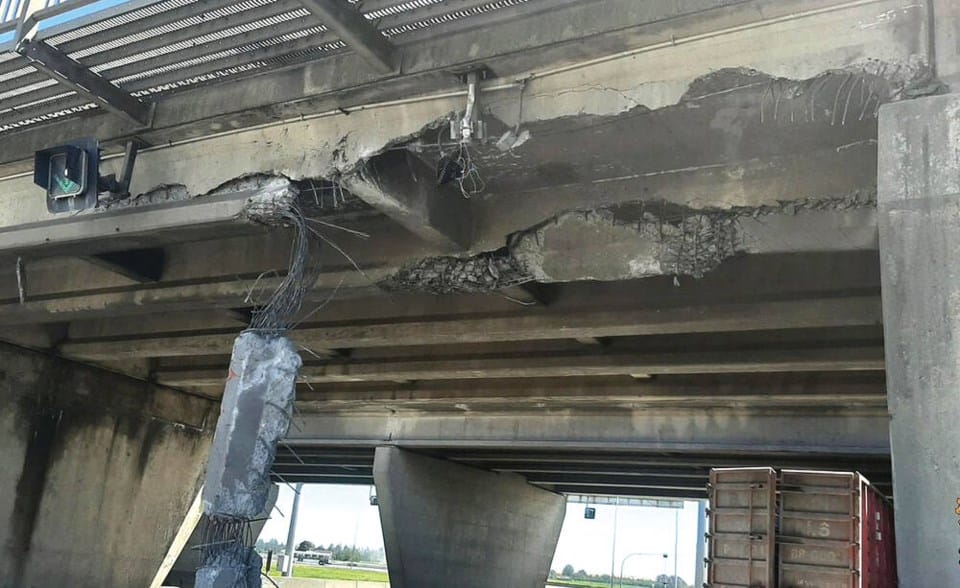 November 8th, 2023, Delta, BC  |  Yesterday the BC government announced it would begin work on permanent repairs to the Hwy 17A overpass of Hwy 99 which was damaged on July 18th when an over-height vehicle struck the underpass and caused significant structural damage.
This morning, Delta Chamber Board Chair Rosanne Horner wrote to Transportation Minister Rob Fleming and called on him to delay the scheduled single lane - followed by complete closures - of many sections of Hwy 99 SB (southbound) and the Hwy 17A SB overpass and NB (northbound) HOV lanes for what is intended to be eight weeks of construction, should everything go to plan.
She urged him to postpone repairs until January 2nd, 2024 when many residents and businesses  will have had the opportunity to:
complete their holiday shopping,
attend gatherings/celebrations at local food & beverage businesses, and to
facilitate effective transportation for the manufacturing, distribution, and wholesale retailers which ensure that goods needed for local businesses to serve their customers are available to them.
She also called on him to work with Translink to increase public transit service frequency to the area during this challenging time so that workers in the area would have a viable alternative to using single occupant vehicles.
For some small businesses which have continued to struggle through recovery (from not only COVID-19, but also the supply chain crisis, and a labour force shortage), they are now additionally facing a January 18th CEBA loan repayment deadline, and therefore have been working diligently towards what they hope to be a successful holiday season.
It is imperative that small businesses are equipped with every opportunity for success this calendar year. As Chair Horner noted in her letter to Minister Fleming, "delaying this repair by 46 days to save businesses is an acceptable compromise for those impacted."
As such, the Delta Chamber of Commerce requests that the repair of the Hwy 17A overpass be delayed until January 2nd, 2024.
Do you have feedback on the planned closures of Hwy 17A and Hwy 99 for repair, and how it could impact your business? Feedback on how you've been affected since the initial incident in July? Your thoughts and input are welcome! Contact Lydia Elder, our Manager of Policy, Advocacy & Government Relations by email or by phone (604-946-4232) and she will be glad to speak with you further.
The Delta Chamber of Commerce is a member-based organization of business and professional people in the federal electoral district of Delta (City of Delta and Tsawwassen First Nation) which has served to promote its members' collective commercial interests since 1910. As The Voice of Business in Delta, the Chamber works as a trusted convener and connector to build a thriving local economy through fostering economic development and influencing public policy at all levels of government - all to ensure healthy and prosperous businesses and communities.