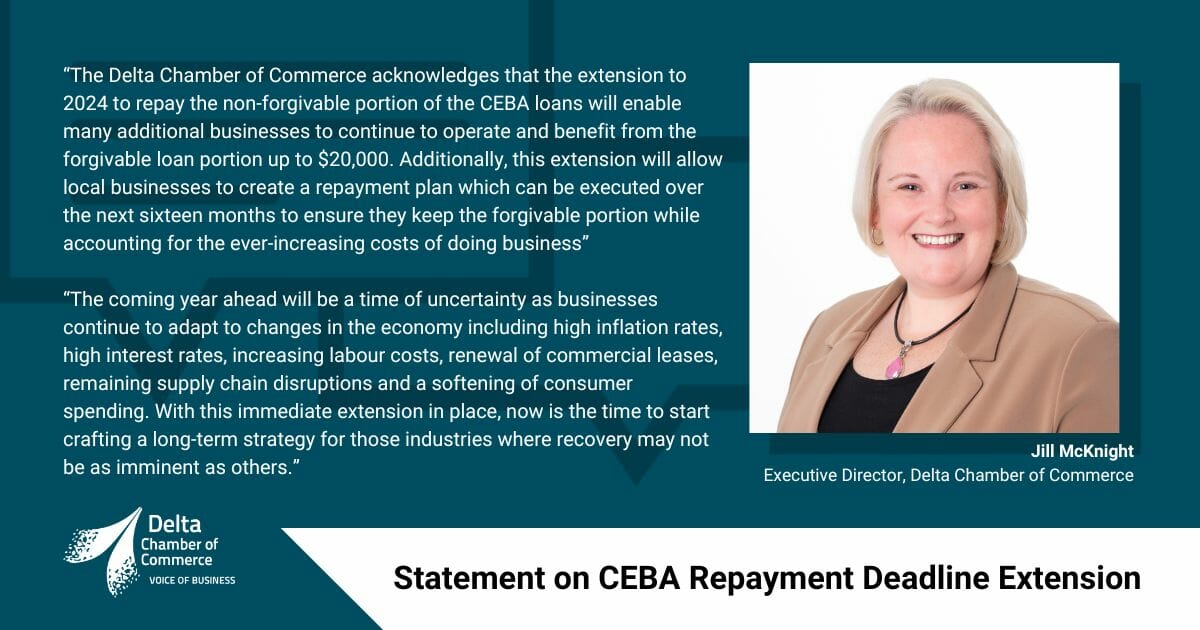 September 14th, 2023, Delta, BC | Today, the Canadian Federal Government's decision to extend the Canada Emergency Business Account (CEBA) repayment deadline by one year will be welcomed by small business who are faced with the inability to repay their CEBA loans.
"The repayment deadline for CEBA loans to qualify for partial loan forgiveness of up to 33 per cent is being extended from December 31, 2023, to January 18, 2024, recognizing that the end of December is a busy time for many Canadian businesses. This builds on the government's previous one-year extension announced in January 2022." (from the federal announcement)
Those with current outstanding CEBA loans who apply for refinancing with the financial institution that provided their CEBA loan NO LATER THAN January 18th, 2024 will qualify for partial loan forgiveness. This now includes time to hear back on a refinancing decision from their financial institution through March 28th, 2024. These changes will allow more small businesses and not-for-profits to access relief and give them more time to hear back from their financial institutions on refinancing applications.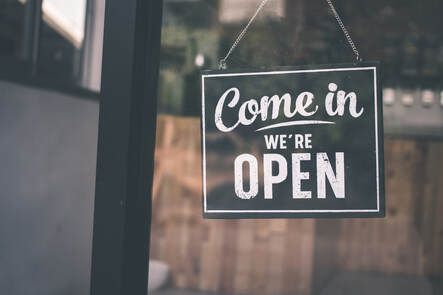 As of January 19th, 2024, all outstanding CEBA loans - including those which are part of the refinancing extension process - will convert to three-year term loans, subject to an annual interest rate of 5%, with the term loan repayment date extended from December 31st, 2025, to December 31st, 2026.
Repayment on or before the new deadline of January 18th, 2024 (or March 28th, 2024 if a refinancing application is submitted prior to January 18th, 2024 at the financial institution that provided their CEBA loan), will result in loan forgiveness of $10,000 for a $40,000 loan and $20,000 for a $60,000 loan.
"The Delta Chamber of Commerce acknowledges that the extension to 2024 to repay the non-forgivable portion of the CEBA loans will enable many additional businesses to continue to operate and benefit from the forgivable loan portion up to $20,000. Additionally, this extension will allow local businesses to create a repayment plan which can be executed over the next sixteen months to ensure they keep the forgivable portion while accounting for the ever-increasing costs of doing business," stated Jill McKnight, Executive Director of the Delta Chamber of Commerce.
She further noted that "The coming year ahead will be a time of uncertainty as businesses continue to adapt to changes in the economy including high inflation rates, high interest rates, increasing labour costs, renewal of commercial leases, remaining supply chain disruptions and a softening of consumer spending. With this immediate extension in place, now is the time to start crafting a long-term strategy for those industries where recovery may not be as imminent as others."
----------
To learn more, please see the following:
News Release: Fighting for the middle class | Prime Minister of Canada (pm.gc.ca)
Backgrounder: Canada Emergency Business Account: Government extends repayment and partial loan forgiveness deadlines - Canada.ca
News Articles: CBC, Globe & Mail, Canadian HR Reporter, Ottawa Business Journal
BC Chamber of Commerce Statement: BC Chamber of Commerce Statement on Changes to CEBA Loan Repayments | British Columbia Chamber of Commerce
----------
Do you have feedback on the CEBA loan repayment & partial loan forgiveness deadlines, and how it could impact your business? Your thoughts and input are welcome! Contact Lydia Elder, our Manager of Policy, Advocacy & Government Relations by email or by phone (604-946-4232) and she will be glad to speak with you further.
The Delta Chamber of Commerce is a member-based organization of business and professional people in the federal electoral district of Delta (City of Delta and Tsawwassen First Nation) which has served to promote its members' collective commercial interests since 1910. As The Voice of Business in Delta, the Chamber works as a trusted convener and connector to build a thriving local economy through fostering economic development and influencing public policy at all levels of government - all to ensure healthy and prosperous businesses and communities.