The Delta Chamber of Commerce was proud to host our 71st Annual Hats Off to Excellence Awards Gala, presented by the Port of Vancouver, which has been celebrating the best of Delta since 1951. Long considered to be the premiere business event of the year, the Hats Off to Excellence Awards Gala is a high-profile, prestigious event for Delta businesses and individuals.
This year, the event was held in the Tsawwassen Springs Ballroom with gorgeous views over the farmland to the North Shore Mountains. We celebrated the Finalists in the following award categories: Rising Star Award, Community Impact, Small Business, Medium Business, Large Business & Citizen of the Year. We look forward to celebrating with you next year!
The Medium business of the year Award goes to Raven Excavation!
Congratulations!
Medium Business of the Year Award 2022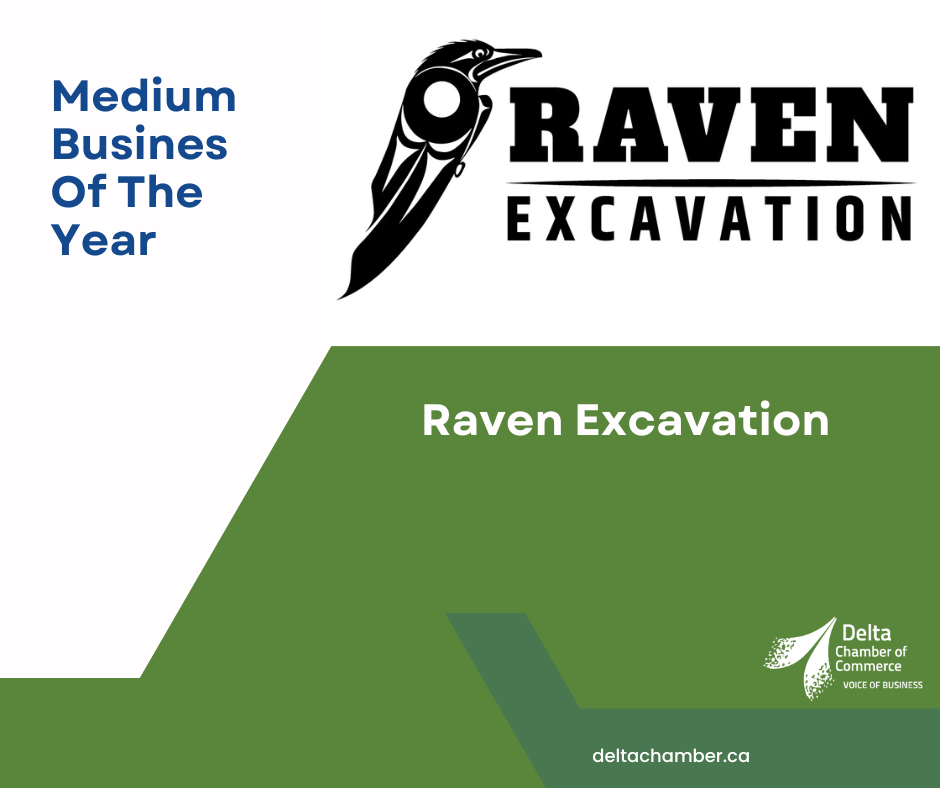 Raven Excavation, founded in 1993 by Tony Jacobs, is a family owned and operated heavy equipment construction company located in Tsawwassen, specializing in earthworks and site preparation.
Tony began by purchasing a small excavator and doing small jobs and quickly expanded to have a wide selection of heavy equipment including water trucks, compactors, rock trucks, dozers, and excavators.
Raven Excavation prides itself on being a First Nation owned and majority operated company with certified and experienced heavy equipment operators. With over 35 years of experience, Raven has completed a diverse range of jobs throughout the Lower Mainland.
Tony has established an excellent reputation with his client base and has successfully relied on his reputation in the industry and network of contacts with well-known developers, which has made his company a success.