The Delta Chamber of Commerce was proud to host our 71st Annual Hats Off to Excellence Awards Gala, presented by the Port of Vancouver, which has been celebrating the best of Delta since 1951. Long considered to be the premiere business event of the year, the Hats Off to Excellence Awards Gala is a high-profile, prestigious event for Delta businesses and individuals.
This year, the event was held in the Tsawwassen Springs Ballroom with gorgeous views over the farmland to the North Shore Mountains. We celebrated the Finalists in the following award categories: Rising Star Award, Community Impact, Small Business, Medium Business, Large Business & Citizen of the Year. We look forward to celebrating with you next year!
The large business of the year Award goes to Ideal Welders!
Congratulations!
Large Business of the Year Award 2022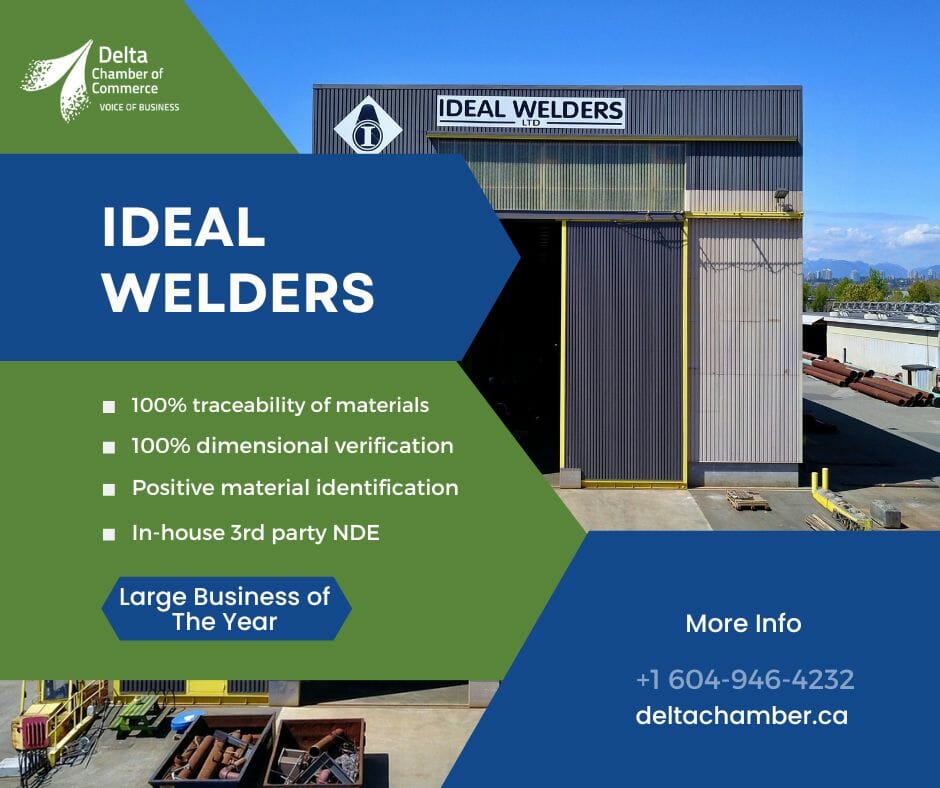 As a proud British Columbia owned and operated company, located on central Annacis Island in Delta, Ideal Welders is the premier pressure vessel and power piping fabrication company in BC. In addition, we are among the largest in Western Canada with three fabrication facilities totaling over 220,000 square feet. Through our 50 years of existence we have continually prided ourselves on developing a reputation for excellence in our specialized field. With this, we commit to managing projects with the primary goal of completing them on time and on budget. All our craft tradesmen are BC pressure welding certified with over 90% holding a Provincial "A" Level welding certificate. From 1-inch refrigeration piping to 2000-ton plant module construction, no project is too large or too small for us to handle!