The Delta Chamber of Commerce was proud to host our 71st Annual Hats Off to Excellence Awards Gala, presented by the Port of Vancouver, which has been celebrating the best of Delta since 1951. Long considered to be the premiere business event of the year, the Hats Off to Excellence Awards Gala is a high-profile, prestigious event for Delta businesses and individuals.
This year, the event was held in the Tsawwassen Springs Ballroom with gorgeous views over the farmland to the North Shore Mountains. We celebrated the Finalists in the following award categories: Rising Star Award, Community Impact, Small Business, Medium Business, Large Business & Citizen of the Year. We look forward to celebrating with you next year!
Community Impact Award goes to Delta Farmland and Wildlife Trust!
Congratulations!
Community Impact Award 2022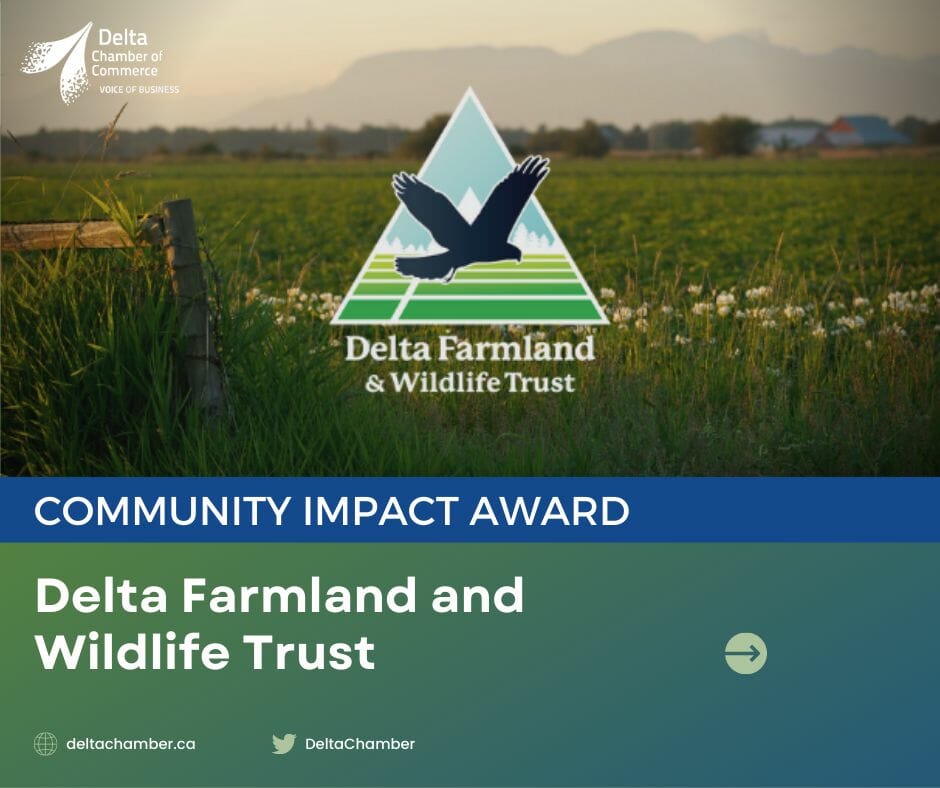 Delta Farmland & Wildlife Trust (DF&WT) was established in 1993 by a group of farmers and conservationists committed to preserving Delta's agricultural and wildlife resources. Through partnerships with farmers, DF&WT's stewardship programs have contributed to the planting of 90,000 acres of winter cover crops, 14,000 acres of grassland set-asides and more than 10 km of hedgerows. These projects provide essential habitats for migratory and resident wildlife visiting Canada's most Important Bird Area. DF&WT has also participated in numerous research projects in partnership with UBC, BCIT and the Investment Agriculture Foundation dealing with soil health, crops, wildlife and pollinators on Delta's agricultural lands. By providing solutions for farmers that are compatible with crop rotations, DF&WT's stewardship programs contribute to the long-term viability of local farmland, ensuring the land will continue to be sustainable for food production and accessible for wildlife habitat. Since 1993 DF&WT has disbursed $10 million into our community to enhance biodiversity in this beautiful and unique landscape.