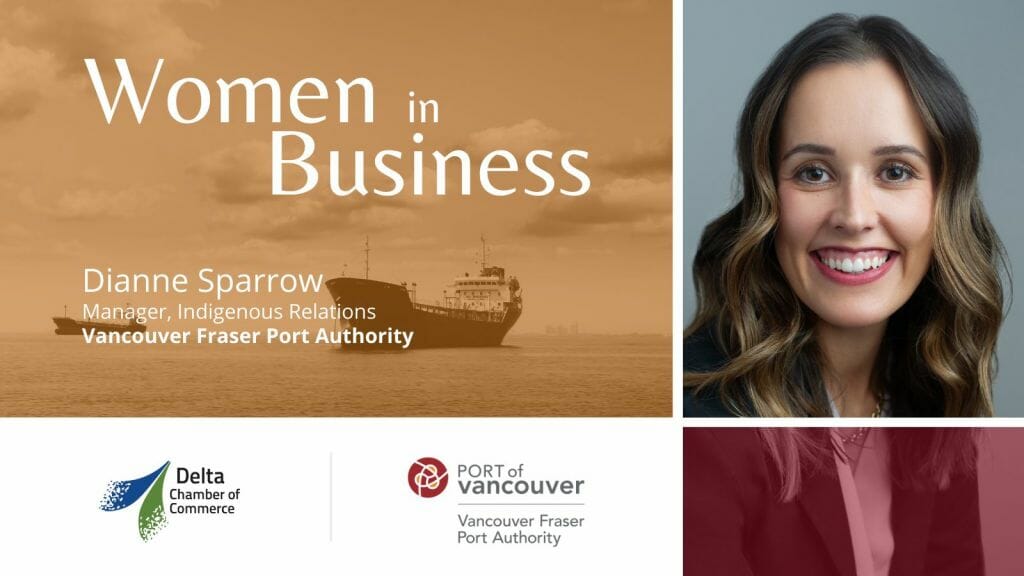 Women are at the leading edge of business in Delta, BC. In celebration of International Women's Day, we are featuring women business leaders and entrepreneurs throughout our community.
Dianne Sparrow is the Indigenous Relations Manager for the Vancouver Fraser Port Authority where she is focused on developing and maintaining the Port's overall, long-term relationships with Indigenous groups. Prior to working at the Port, she served as the Associate Director of Title and Rights for the Musqueam First Nation. She has an Executive Master of Business Administration from Simon Fraser University in Indigenous business and leadership, a Master of Arts in Indigenous governance from the University of Victoria, a Bachelor of Arts in history from the University of Manitoba, and a Bachelor of Education from Western University. In 2018, Dianne was recognized by Business in Vancouver as a Top 40 Under 40 recipient, and in 2019, Vancouver Magazine named her on the Power 50 List, ranking at number 14.
Who inspires you in your life? My mother has always been an inspiration in my life. Her resilience and strength has provided me with a strong foundation throughout my life. She is definitely someone whom I admire and really look to for advice and guidance. As a strong Indigenous woman, my mom has been through some of the hardest obstacles that life can throw at you, like residential school; she is a force of nature that I hope I can make proud every single day.
Who has mentored you in your career? There have been a couple of people who have mentored me in my career. They prefer to stay in the background and often provide me guidance and advice. A big part of their mentorship has been the fact that they have been role models for me, and I look to their decisions that they have made in their own careers to provide guideposts for me in mine.
Which book or podcast are you enjoying right now? I just finished reading Seven Fallen Feathers by Tanya Talaga, which looks at seven Indigenous high school students who lost their lives in Thunder Bay, Ontario, from 2000 to 2011. I found it be a devastating story about these kids and the systemic racism they faced when they moved away from their family and friends in order to continue their education. It really shines a light on a part of Canada that rarely gets any attention. Highly recommend.
What advice would you give to a 2022 graduate? I think one of the best pieces of advice is to ensure that you have a great team supporting you. That can be your family, friends, or colleagues—people who are positive and who are your biggest allies and cheerleaders!
How have your past experiences shaped your outlook of the future? I think my experiences related to how organizations, businesses, and ordinary Canadians are implementing actions to advance Reconciliation has really improved my outlook of the future. I'm seeing significant positive change and that this is having real impacts in our communities, which is amazing!