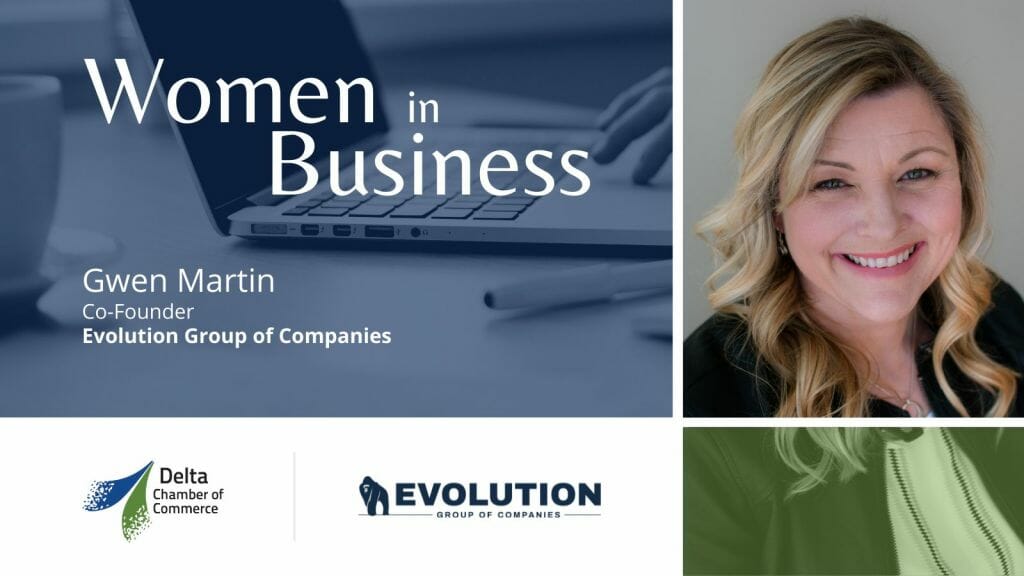 Women are at the leading edge of business in Delta, BC. In celebration of International Women's Day, we are featuring women business leaders and entrepreneurs throughout our community.
Gwen Martin is the Co-Founder of Evolution Group of Companies and CEO of Blastramp. An entrepreneur, mother, and performance coach, her diverse career began with the British Armed Forces. After 15 years of working in senior management in the technology and engineering corporate sectors, 2010 saw Gwen leave to start the first of five successful companies and a not-for-profit foundation with her husband. Also in 2010, with a need in the warehousing industry for a different type of third party fulfillment offering, they had a vision to do things differently. With two customers and 2,000 square feet of warehouse space, they spent the next decade growing their business model and adding related technology businesses to Evolution Group of Companies—which now offers over 150,000 square feet of warehouse and office space in two countries servicing brands from every continent. They like to celebrate their employees and their diversity. One of the most important things to Gwen has been creating a culture where people love coming to work every day. Gwen's commitment is to make a difference and contribute to the peace of mind and workability in families and workplaces by empowering others.
Who inspires you in your life? After 51 years of marriage, my parents inspire me to understand that every relationship is always a work in progress and worth every invested effort. My husband and children inspire me to look and think outside the box everyday.
Who has mentored you in your career? Leonard Hordyk was one of my first business mentors. He was a compassionate leader and very inspiring. He taught me to approach every conversation from the other person's point of view.
Which book or podcast are you enjoying right now? Currently on my Audible playlist are Becoming by Michelle Obama and Dare to Lead by Brené Brown.
What advice would you give to a 2022 graduate? Anything is possible—look beyond what might first appear to be an obstacle, and invite people to have conversations with you to create solutions. If you don't have the answer, keep asking the questions, and enroll people to participate with you.
How have your past experiences shaped your outlook of the future? From all of my experiences, whether it was working for the British military, working in the private sector, owning businesses, or being a wife and mother—I realized that everyone has something to contribute to me, and I have much to contribute to them, too. I have to be open to asking for and receiving support and being respectful in my communication at all levels. Great success is built upon a foundation of respect and keen listening.