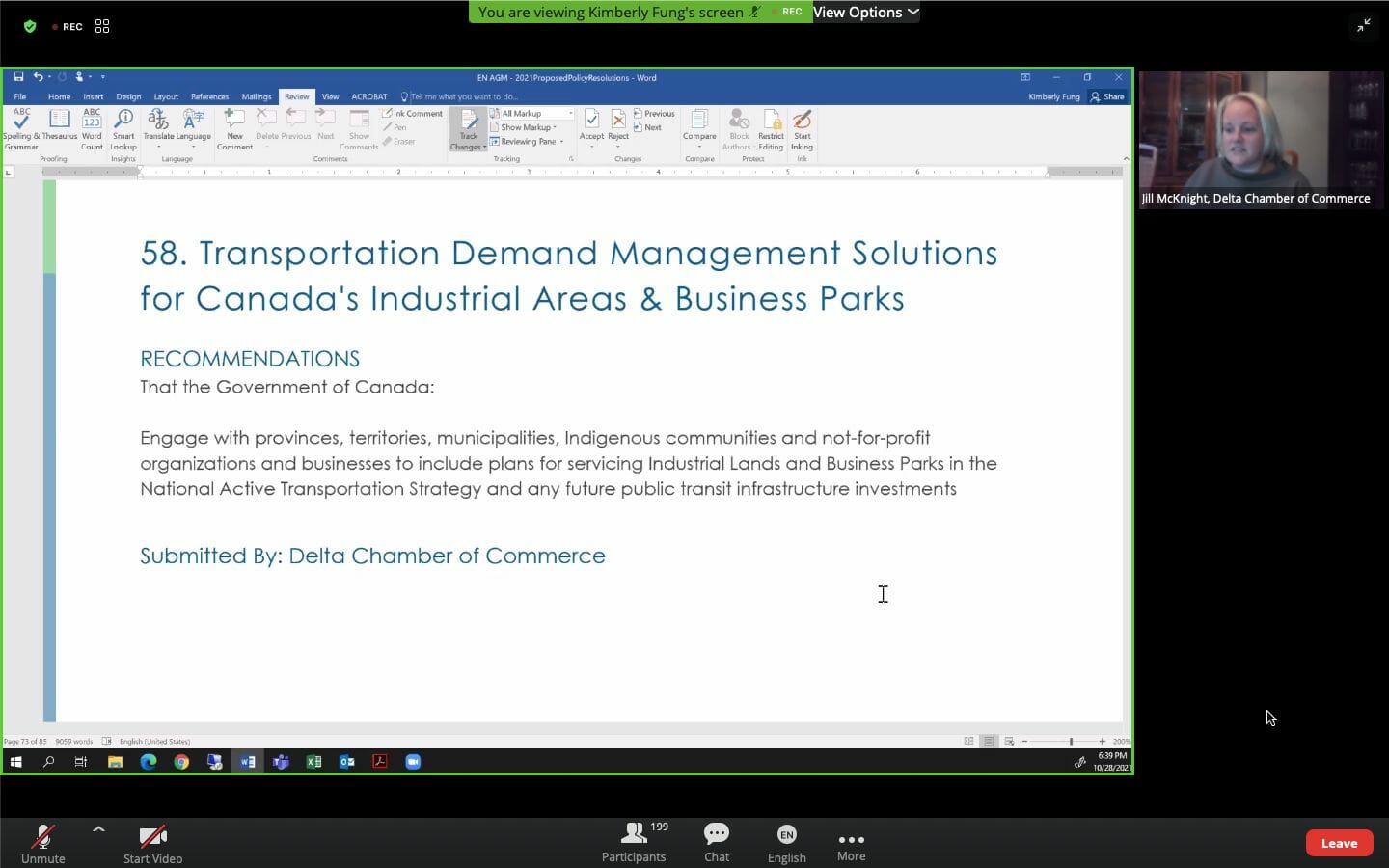 Delta, BC, November 1, 2021 | The Delta Chamber of Commerce has gained support from business organizations across the country in its advocacy work on two important topics for businesses here in Delta, and nationwide: better transportation solutions planning for industrial areas and business parks and decreasing red tape in taxation processes. Late last week, two Delta Chamber of Commerce policy resolutions were adopted at the Canadian Chamber of Commerce virtual AGM. As a result, they will now become policies of the national chamber, which represents over 200,000 businesses across Canada and will form part of its advocacy agenda with the federal government.
The first resolution, "Work From Home Here Home Here to Stay – CRA Needs to Make the T2200 Short Form Permanent," co-sponsored by neighbouring chamber, the Surrey Board of Trade, focuses on the reality that work-from-home and hybrid work options have become much more prevalent during the pandemic. This has increased the use of the T2200 form, which until government introduced a temporary one-page "short form" version in 2020, was a three-page form. "For business owners, completing this additional amount of paperwork is an extra burden on top of all of the other challenges they've been facing during COVID," explained Jill McKnight, Delta Chamber of Commerce Executive Director. "Making this temporary measure of the short form permanent, will expedite the process for employers and take less time away from focusing on the operation and growth of their businesses."
The second resolution, "Transportation Demand Management Solutions for Canada's Industrial Areas & Business Parks" addresses the reality that urban planning concepts of developing "complete communities" focuses on providing public transit to and from "urban centres" where residential neighbourhoods, and their supporting services – such as shops, schools, higher density offices, and similar amenities – are located together. These planning principles can be seen in the current Metro Vancouver 2050 and Translink 2050 planning processes and allow that most resident trips be taken by transit, walking and cycling. While an excellent concept, "complete community" planning does not provide for the integral role of workers in industrial areas or business parks. These industrial areas are, by necessity, outside of the residential transit corridors and therefore do not – and will not – receive the kind of future investment needed to make public transit a viable option for current or potential future workers in these areas, which results in workers being primarily reliant on single occupant vehicles.
"The issue of Transportation Demand Management for our industrial parks is critical for businesses here in Delta, and across the country," explained Delta Chamber of Commerce Board Chair, Yvonne Anderson. "As the founder and CEO of a business in the Tilbury Industrial Park here in Delta, I can tell you firsthand the impact that a lack of public transit services, combined with the evergreen impacts of the George Massey Tunnel, has on businesses here. We're calling on government to take action by including plans to provide transportation services for workers in these critical sectors in the National Active Transportation Strategy and any future public transit infrastructure investment."
​-----
The Delta Chamber of Commerce is a non-partisan, member-based organization of business and professional people, which works to promote our members' collective commercial interests; to build a healthy economy and improve the quality of life in our community and to advocate for the interests of the Delta business community with all levels of government.