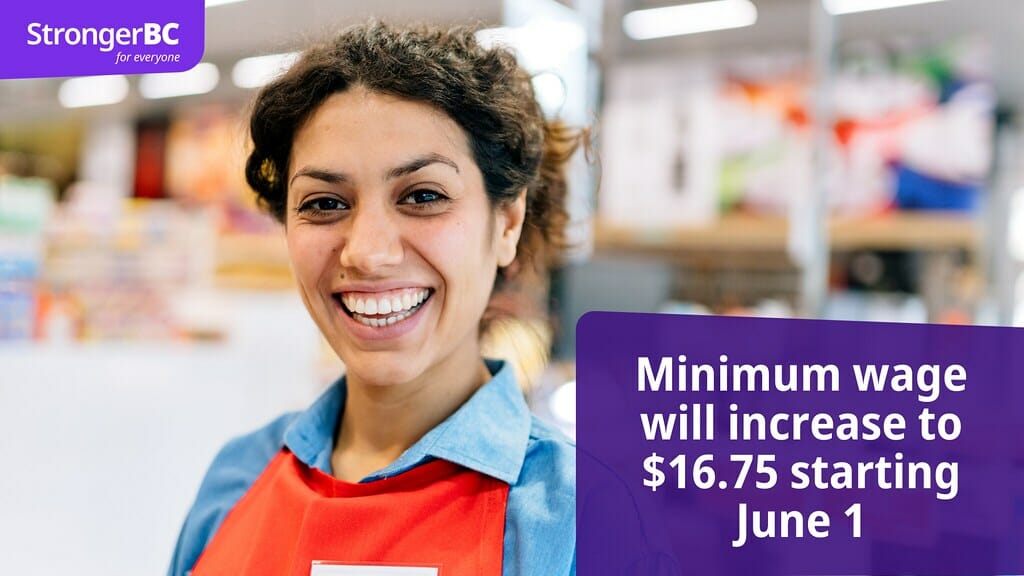 April 5, 2023, Delta, BC | In response to today's announcement to increase the provincial minimum wage effective June 1, 2023, Jill McKnight, Executive Director of the Delta Chamber of Commerce, released the following statement:
"The Delta Chamber of Commerce is disappointed in government's announcement to increase minimum wage from $15.65 to $16.75 (6.9%) effective June 1, 2023. The Chamber is concerned that an unusually high temporary inflation rate increase is being addressed by a permanent increase in minimum wage and about the cumulative impact of numerous rising mandated expenses on small to medium-sized businesses in British Columbia.
"The Delta Chamber of Commerce calls on government to increase the EHT exemption threshold effective immediately and retroactively to reflect the minimum wage increases from 2019 to date. Government mandates increases to the cost of doing business have been substantial over the past several years, and this recent one will push some employers currently below the $500,000 annual threshold for the Employer Health Tax over this threshold. The EHT exemption threshold should be increased annually in tandem with minimum wage rate increases.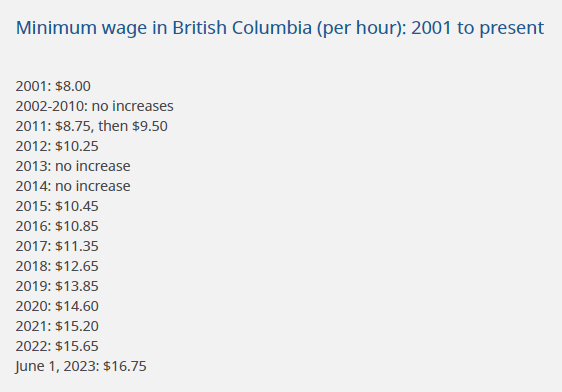 "Further, the short notice for this increase implementation is insufficient for businesses to proactively plan and prepare for. Moving forward, government should commit to a minimum 90-day notice period to provide detailed advanced notice for such changes. Small businesses are already struggling with rising costs and the knock-on effects of COVID closures, reductions in sales, and the introduction of new paid sick days in 2022 and a new stat holiday in 2023. Government must find alternate measures to significantly reduce costs and red tape to support small businesses to remain sustainable and competitive while they absorb these additional layered costs."
"The Delta Chamber of Commerce supports fair wages for workers and acknowledges the provincial government's 2017 commitment to tie future minimum wage increases to inflation once it hit the $15.00/hour threshold. We recognize that government is rightly motivated to reduce the overall poverty rate in BC, including child poverty, however small businesses cannot be expected to carry the cost for doing this. There needs to be a way to spread out this cost in an equitable manner.
"Our businesses are vital to building strong communities and their sustainability is essential in maintaining healthy communities."
Do you have feedback on the provincial minimum wage increase and how it could impact your business? Your thoughts and input are welcome! Contact Lydia Elder, our Manager of Policy, Advocacy & Government Relations by email or by phone (604-946-4232) and she will be glad to speak with you further.
The Delta Chamber of Commerce is a member-based organization of business and professional people in the federal electoral district of Delta (City of Delta and Tsawwassen First Nation) which has served to promote its members' collective commercial interests since 1910. As The Voice of Business in Delta, the Chamber works as a trusted convener and connector to build a thriving local economy through fostering economic development and influencing public policy at all levels of government - all to ensure healthy and prosperous businesses and communities.