The Delta Chamber of Commerce was proud to host our 71st Annual Hats Off to Excellence Awards Gala, presented by the Port of Vancouver, which has been celebrating the best of Delta since 1951. Long considered to be the premiere business event of the year, the Hats Off to Excellence Awards Gala is a high-profile, prestigious event for Delta businesses and individuals.
This year, the event was held in the Tsawwassen Springs Ballroom with gorgeous views over the farmland to the North Shore Mountains. We celebrated the Finalists in the following award categories: Rising Star Award, Community Impact, Small Business, Medium Business, Large Business & Citizen of the Year. We look forward to celebrating with you next year!
The Rising Star Business  Award goes to Wen Plastics !
Congratulations!
Rising Star Business 2022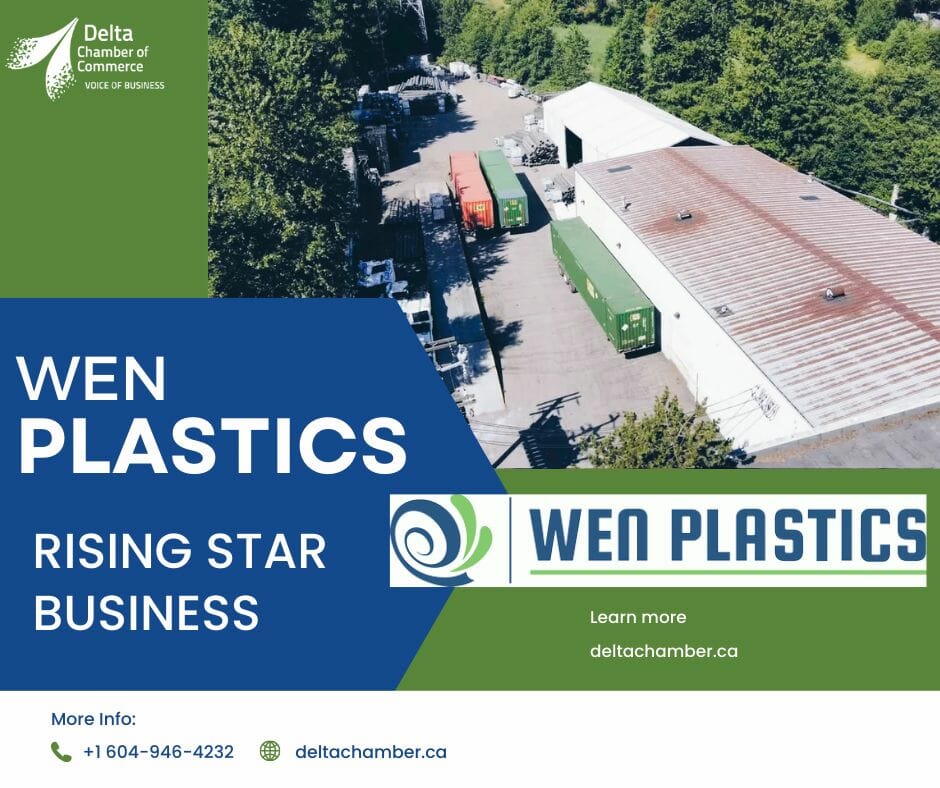 Wenplastics is a plastic recovery plant focusing on HDPE and PP reclaim. In our 4 acre plant at Tilbury Delta, on site process includes shredding/grinding, rinsing, drying and extrusion of resin pellets. Wenplastics also offers distribution and refurbishment of plastic containers including tote, pail and
drums. Their pioneer project provides industrial recycling and manufacturing solutions on the west coast and across Canada. They process and manufacture large quantities of post industrial plastics including HDPE water pipes, natural gas pipes and plastic pallets. Their customized system provides a second life for such materials by recovering and reclaiming them into plastic flakes and resin which becomes plastic feedstock again for manufacturing. The one stop program reduces scrap plastics to landfill, incinerator and the ocean.