The Delta Chamber of Commerce was proud to host our 71st Annual Hats Off to Excellence Awards Gala, presented by the Port of Vancouver, which has been celebrating the best of Delta since 1951. Long considered to be the premiere business event of the year, the Hats Off to Excellence Awards Gala is a high-profile, prestigious event for Delta businesses and individuals.
This year, the event was held in the Tsawwassen Springs Ballroom with gorgeous views over the farmland to the North Shore Mountains. We celebrated the Finalists in the following award categories: Rising Star Award, Community Impact, Small Business, Medium Business, Large Business, Business of the Year & Citizen of the Year. We look forward to celebrating with you next year!
We are proud to announce Bruce McDonald citizen of the year
Bruce McDonald Citizen of the Year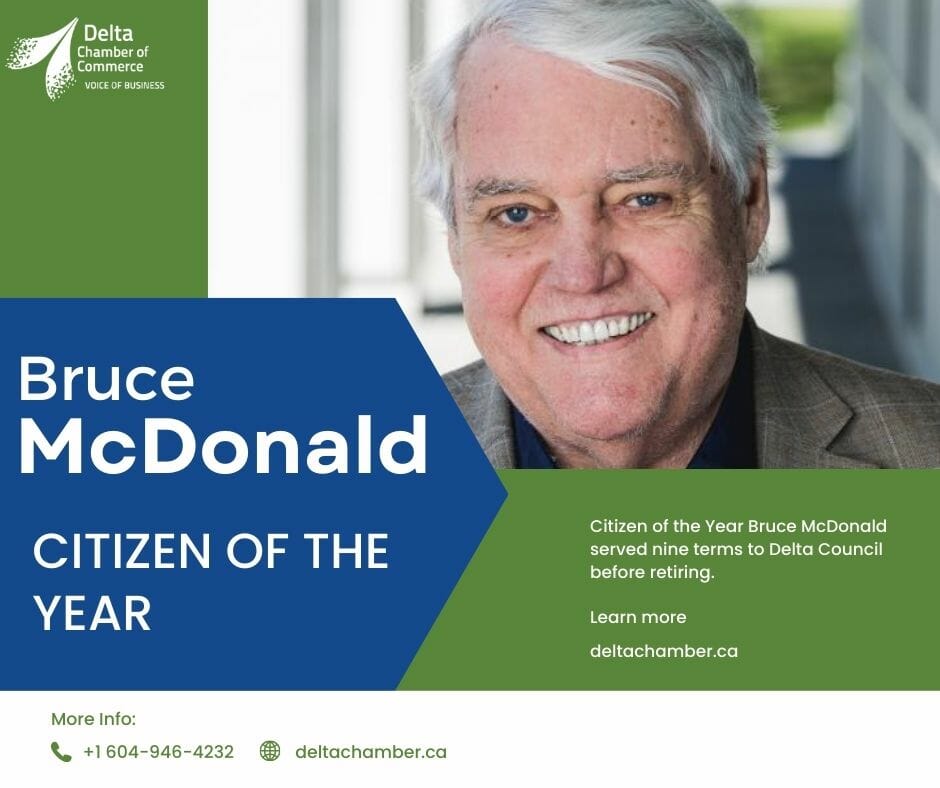 Bruce McDonald citizen of the year served nine terms before retiring from his role in October 2022. As a long-standing member of the Council, Bruce has worked on every municipal committee or commission and acted as a strong community advocate with an immense knowledge of local issues.
Bruce showed a commitment to ensuring agriculture continues to be a substantial contributor to Delta's economy, supporting small businesses, and conserving our environment to ensure Delta continues to be an excellent place for families to grow, work and play.
Bruce has been a resident of Delta for 50+ years and together with his wife, Barbara, they raised their three children in North Delta. In addition to serving on Council, Bruce's professional experience includes 41 years in air traffic control; both as an operational controller and senior manager.