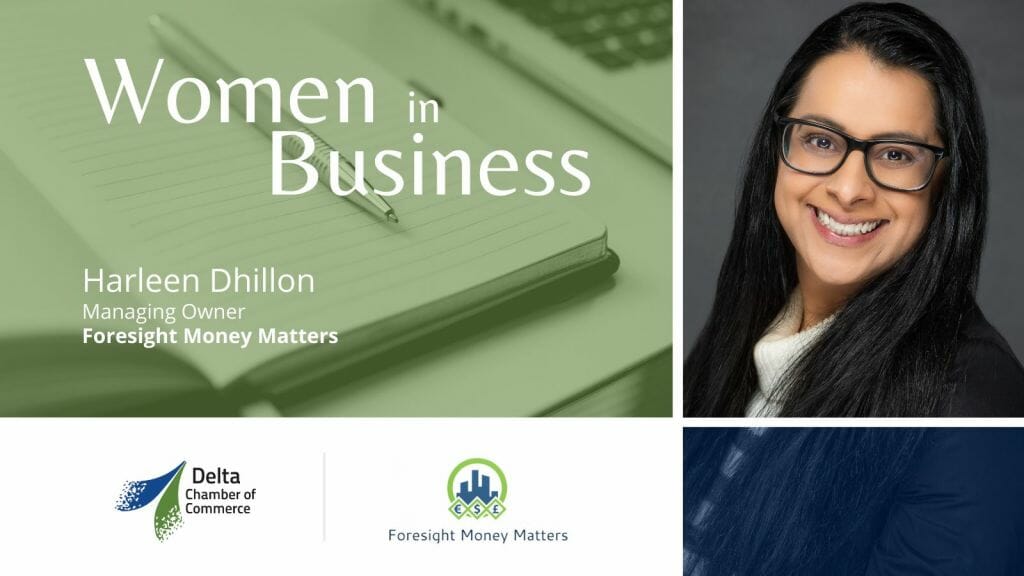 Women are at the leading edge of business in Delta, BC. In celebration of International Women's Day, we are featuring women business leaders and entrepreneurs throughout our community.
As the Managing Owner of Foresight Money Matters Tax & Bookkeeping, Harleen Dhillon's passion lies in helping small and medium-sized businesses gain the freedom to pursue their vision. Her team offers clients bookkeeping, accounting, and tax solutions. In addition, through Foresight's professional network, they work with business lenders from the top five banks to provide clients access to financing to start and grow their business. As a chartered professional accountant, Harleen is committed to professional growth and development, having completed with honors the Canadian Securities, Investment Funds in Canada and Wealth Management Techniques courses. She also holds the designations of Professional Financial Planner and Financial Management Advisor. Her breadth of experience includes bookkeeping and accounting, auditing, mortgage and investment specialist, as well as leadership roles. Harleen served as a senior fund accountant at the Alberta Investment Management Corporation and a board of director for Hardwood Plaza.
Who inspires you in your life? Currently, my clients inspire me. At this time with everything going on, macro- and micro-economically small and medium-sized businesses have faced many unprecedented challenges. From heat waves to flooding, COVID-19 to supply chain management—all in an environment where changes to public health orders have forced businesses to learn and embrace agility—it's the people behind the closed doors (owners, operators, families) continuing to provide for themselves, their employees, and their local communities who inspire me right now!
Who has mentored you in your career? I have had, and continue to have, mentors in my career that have provided wise and trusted counseling to help me grow professionally. My mother and father were my first mentors, as they instilled in me the importance of working hard while also helping to give back and be thankful for the opportunity to teach and help others. Professional mentors, including a branch manager for Royal Bank of Canada as well as a department head for CIBC Mortgages, helped to guide me in harnessing my area of expertise and passion when it comes to the world of finance. Finally, the Chartered Professional Accountants of BC have provided excellent training and education. In addition, financial literacy volunteer opportunities helped me focus on my area of expertise and helped me grow my confidence in explaining the financial world to many individuals and business owners in a language they can understand.
Which book or podcast are you enjoying right now? I just finished listening to the audiobook Think Like a Monk by Jay Shetty, and I am currently just starting The 5AM Club by Robin Sharma.
What advice would you give to a 2022 graduate? To capitalize on every opportunity and get as much diverse experience as you can. As a graduate, the professional part of your career is just beginning, and in my experience getting your feet wet with different jobs and different people helps to build adaptability while providing you with a perspective of what you would want to do for the long term. No job or experience should be taken for granted; one of the best jobs I had, in hindsight, was a server job. It allowed me to practice my "conversation starters," manage multiple demands, and learn to prioritize (especially during peak dining hours) while also learning how organizations worked (from the kitchen to front of house). All of the experiences that are encountered can be a stepping stone for your successful future!
How have your past experiences shaped your outlook of the future? I think it is through our past experiences that our future is shaped. For myself, my past experience of coming from a family of entrepreneurs trying to achieve their goals and passions, but being bogged down and overwhelmed with the tax, CRA, and accounting aspect of the business, really shaped who I became professionally. As I saw my father and brother struggle to manage it all while trying to learn the regulations and jargon of the finance and accounting world, I realized how I wanted to help lessen this burden for them and others.