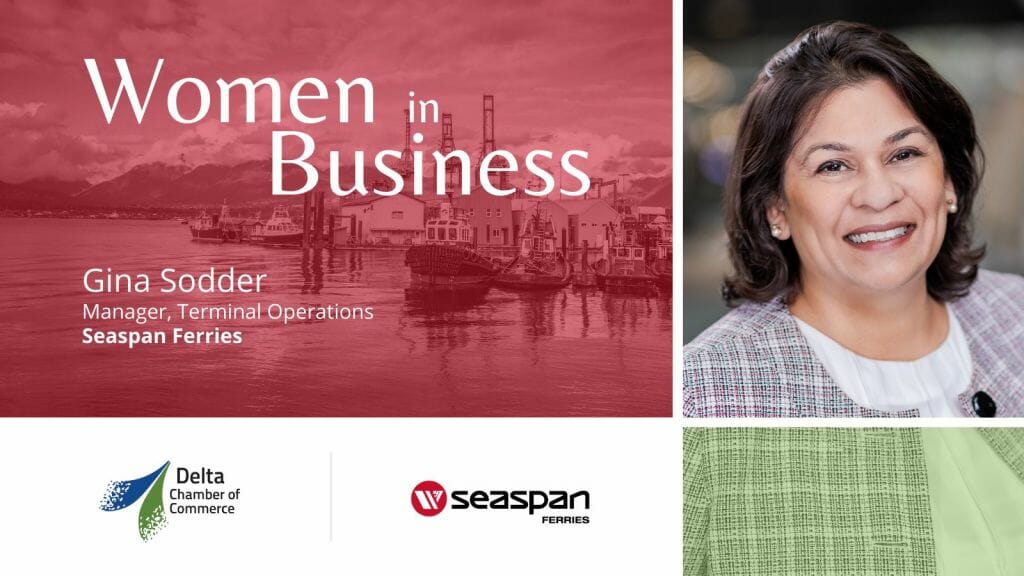 Women are at the leading edge of business in Delta, BC. In celebration of International Women's Day, we are featuring women business leaders and entrepreneurs throughout our community.
Gina Sodder is the Manager of Terminal Operations at Seaspan Ferries. She oversees operations for "roll on/roll off" shipments between the Lower Mainland and Vancouver Island. Her real-time operational team is a diverse group that supports the larger organization's purpose with strong focus on safety, efficiency, and customer service. For Gina, the opportunity to be a part of future business transformation is exciting. She looks forward to leveraging, introducing new technology and adjusting their processes, all while building and leading her resilient team. Gina has held multiple roles in the aviation industry, working in customer service, operations, process improvement, change management, and project transition. Gina has a Bachelor of Arts in psychology and anthropology and certifications in Lean Six Sigma, inclusion and diversity, business and project requirements, and continuous improvement.
Who inspires you in your life? I find inspiration in a variety of people and things. However, I would have to say the person who inspired me the most was my Dad! He always had a smile on his face, he was well respected, and he always gave more than he received.
Who has mentored you in your career? There have been numerous people who have had a positive impact throughout my career. They're people who encouraged me to go further, taught me skills, made me show up as who I am. Also, those who helped me and let me learn from my mistakes, and those that challenged, and continue to challenge, me. It is important that my bucket of mentors come from different backgrounds.
Which book or podcast are you enjoying right now? Grit: The Power of Passion and Perseverance by Angela Duckworth.
What advice would you give to a 2022 graduate? "Every moment is an opportunity to learn from. Pay attention to when things go well, and pay extra attention when they don't; and do things that make you uncomfortable."
How have your past experiences shaped your outlook of the future? I view my past experiences as learning experiences. I have learnt: appreciate what you have, thank people always, tell loved ones how much you care about them, and don't hold on to smaller, irrelevant things.