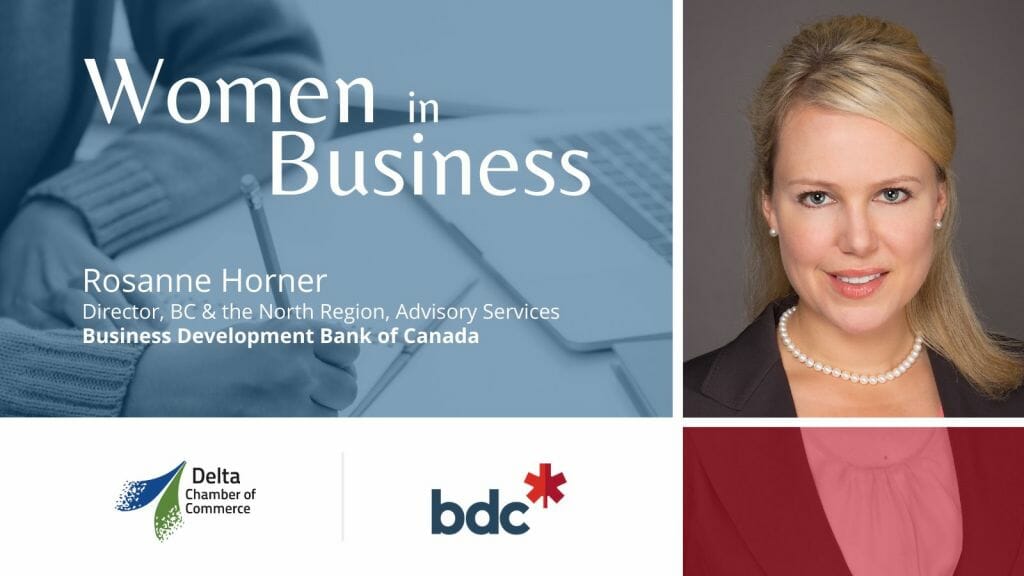 Women are at the leading edge of business in Delta, BC. In celebration of International Women's Day, we are featuring women business leaders and entrepreneurs throughout our community.
Rosanne Horner is the Director, BC and the North Region, for BDC's Advisory Services. Since 2006, she has worked with hundreds of owners and management teams to help them scale their businesses. Rosanne has worked directly with companies across BC to secure senior debt financing, mezzanine capital, and management consulting solutions to help them grow, become more efficient, and enhance their management capabilities. Over this time, she has become a trusted resource for private companies that have the ambition to become best in class. Prior to BDC, she held various positions in operations management. Rosanne holds a Bachelor of Arts from the University of British Columbia, a management certificate in human resources from BCIT, and a Master of Business Administration from the University of Hertfordshire (UH).
Who inspires you in your life? My mother and the Queen.
Who has mentored you in your career? Formally, a Labatt Breweries Director, and informally, too many to count. I seek those in my organization and those outside/abroad. There is very good council around, you just need to seek it out!
Which book or podcast are you enjoying right now? Never Split the Difference by Chris Voss.
What advice would you give to a 2022 graduate? When things go wrong or you make mistakes, it is okay. Own it, and learn from it. If you are not making any mistakes, you are not stretching yourself or growing to your potential.
How have your past experiences shaped your outlook of the future? I am very positive about the future, experience builds confidence. Working with entrepreneurs for more than 15 years has been a privilege, and we are incredibly fortunate to call Canada home.