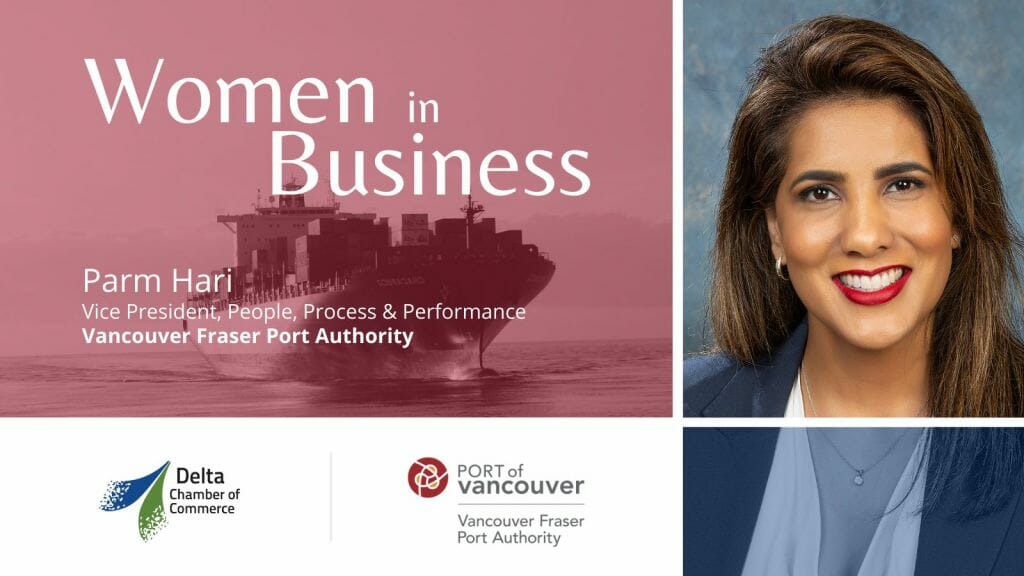 Women are at the leading edge of business in Delta, BC. In celebration of International Women's Day, we are featuring women business leaders and entrepreneurs throughout our community.
Parm Hari joined the Vancouver Fraser Port Authority as Vice President, People, Process and Performance in 2021. In her role, she is responsible for human resources, project management, internal communications, facilities, and process improvement at the Port Authority. Bringing more than 20 years of HR, change management, and business optimization experience at a global level, Parm is a strategic leader who uses a people-first approach to deliver sustainable long-term growth, while unlocking critical short to medium-term people and performance goals. Parm holds a Master of Business Administration degree in strategy and consulting, and a Bachelor of Commerce degree from the University of British Columbia, Sauder School of Business. She also holds certifications in executive and organizational coaching, advanced change management, project management, process improvement, leadership, and organizational development.
Who inspires you in your life? My late grandmother. She was a woman who was not dealt the kindest hand in life, but her work ethic, attitude, and determination allowed her to pave a path that she could not have imagined could exist for her and her family.
Who has mentored you in your career? I had the fortune of my leaders recognizing my potential early and giving me the opportunity to shine. While not mentoring, they gave me the space to fly and execute my vision.
Which book or podcast are you enjoying right now? My Life in Full: Work, Family, and Our Future by Indra Nooyi
What advice would you give to a 2022 graduate? Your career will likely never be a straight path; take the risks even if they scare you. Do not take the safe route. Stay true to who you are, always remain grounded in your values and your own value. Always lead with integrity.
How have your past experiences shaped your outlook of the future? A significant part of my career was spent in international strategy and the key skills I gained were to never approach any country with a cookie cutter approach. Understand the people of an organization, always take the time to listen and understand your environment, and innovate and advance it.